WIT student's summer placement at UPMC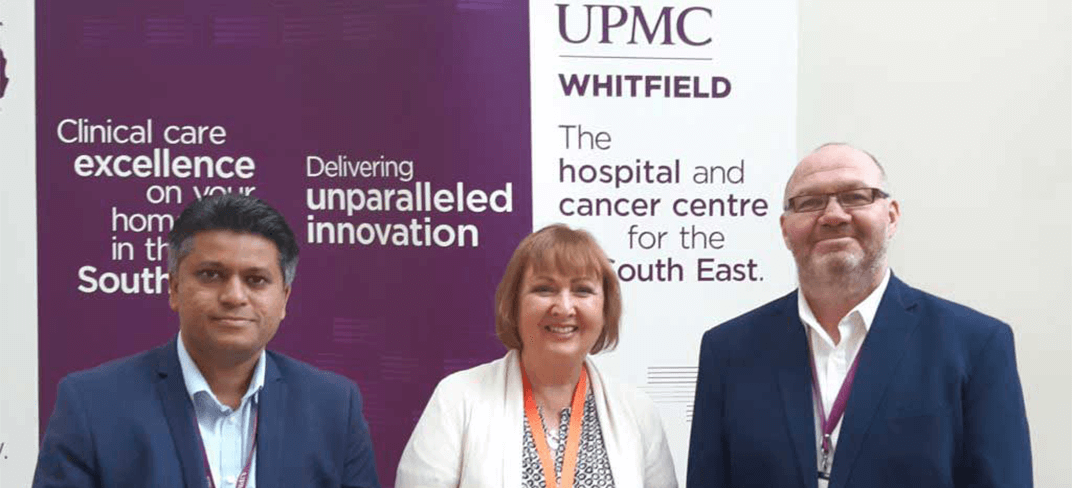 15 August 2019 — UPMC Whitfield Hospital continues its highly successful partnership with Waterford Institute of Technology this summer, hosting students from the Institute's Work Placement modules.
Vinayak Gaikwad, a student on WIT's Higher Diploma in Business Systems Analysis, has spent the summer working with our Head of IT Brian Carberry and his team on a series of exciting new digital healthcare projects. One of these is a digitisation of all patient surveys and internal clinical audits, which is leading to real time clinical insights and patient satisfaction measurements delivered on mobile devices to both patients and clinical staff.
Brian Carberry said Vinayak has been a great addition to the UPMC team:
"It is a very exciting time to be involved in healthcare IT. We are a beta site for UPMC International and Enterprises and this gives us access to new innovative systems, in particular the areas of patient engagement and education. Vinayak is working closely with the different clinical and business teams, understanding their technology needs and working with the wider UPMC teams to propose technology solutions to meet those needs – all managed and delivered with a project management approach utilising Vinayak's recent WIT HDIP in Business Analysis.
Joan Mangan, Programme Co-ordinator, WIT School of Lifelong Learning and Education, adds:
"This invaluable learning period links theory to practice in the real world and also further develops the students' soft skills, including communications, teamwork, problem solving and attention to details among others. Vinayak's placement has proven to be a wonderful learning curve for him, and his success strongly endorses the placement process at WIT. We anticipate the continuous development of this partnership between our students, UPMC and WIT."
Vinayak agrees that working with UPMC has been a hugely beneficial experience:
"This has been such a valuable experience working at UPMC Whitfield Hospital as an intern, which has helped me utilise skills acquired through my studies at WIT in real life projects. It has been a great journey as a student at WIT and to be part of the UPMC team."
WIT is currently processing applications for the new intake to the HDIP in Business Systems Analysis programme which will begin in September 2019. There are currently 20 funded places on offer and applications may be made via www.springboardcourses.ie.