UPMC Sports Medicine Services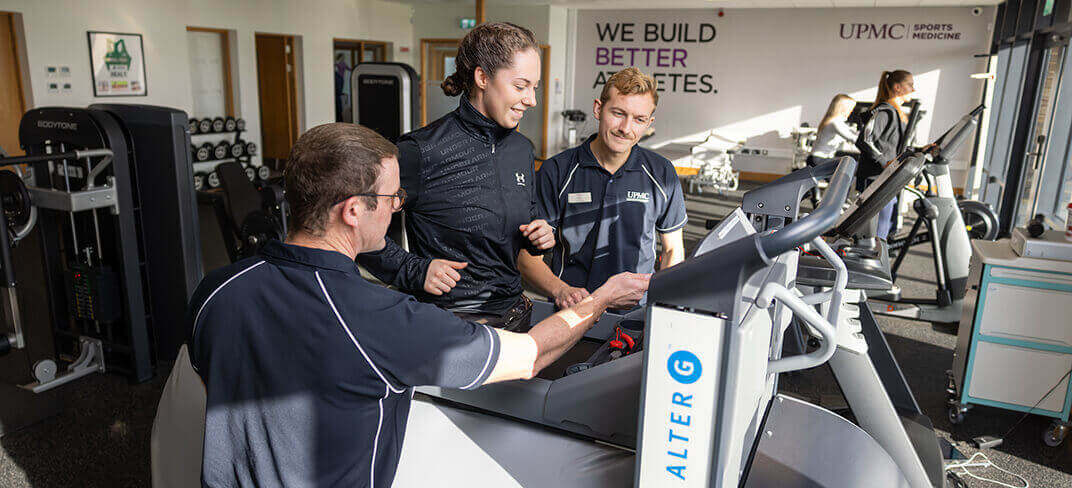 For decades, UPMC Sports Medicine has been treating athletes and active people from around the globe. People turn to us for our team approach to speed up recovery and restore function.
UPMC Sports Medicine's world-renowned services are now available to more patients, closer to home in Dublin, Kildare, Limerick, Mayo, Tipperary, and Waterford.
Adding to the already established UPMC Concussion Network, a team of highly skilled sports medicine experts now offer:
Medical treatments.
Surgery to repair sports injuries.
Physiotherapy and rehabilitation.
UPMC Sports Medicine offers the latest equipment and treatments for athletes.
Make A Sports Medicine Appointment
You can simply call one of our Sports Medicine Clinics to make an appointment.
Sports Injuries We Treat
Our clinic treats and manages:
Sports and exercise injuries. Find treatment and rehab for strains, sprains, ligament tears, fractures, and more.
Concussion. This traumatic brain injury needs specialised care and detailed guidance for a safe return to play. Learn more about the UPMC Concussion Network in Ireland.
Specialised Sports Medicine Programmes at UPMC
Access UPMC's world-renowned sports medicine experts and the latest programmes to treat injuries and enhance performance.
These include:
Sports medicine consultations and injury clinic. Meet with a specialist at the injury clinic and have same-day diagnostic testing.
Physiotherapy. Perform exercises to improve function and mobility after injuries or surgery.
Blood flow restriction rehabilitation. This approach uses a tourniquet system on the arm or leg. A cuff provides specific pressure and reduces blood flow to the limb. We use this to treat fractures, strains, nerve and joint injuries, and severe muscle or bone trauma. It also helps rehabilitation after surgery.
Shockwave and Winback therapy. These techniques use energy waves to promote the body's natural healing processes and relieve pain.
Sport-specific performance testing. These science-based tests look for potential risks and advise ways to achieve peak performance.
Strength and conditioning. Our science-based training programmes help to build stamina and boost performance.
Pre-season athlete and team screening. This approach prepares athletes for the upcoming season. It screens for injury risk, provides injury prevention tips, and performs baseline testing.
Heart screening. This screening helps find heart disorders that could lead to sudden cardiac arrest or other dangerous heart problems during a playing season.
Biodex technology. This tool measures recovery progress for specific sports injuries. It provides objective data to decide the right time to return to play.
Concussion care. Care includes baseline testing, post-injury testing, and rehabilitation services. Learn more about the UPMC Concussion Network in Ireland.
Unique sports medicine services
UPMC Sports Medicine Clinic at SETU Arena has the only AlterG® Antigravity Treadmill™ in the South East.
This treadmill reduces impact on the lower limbs for pain-free rehab after:
Surgery
Fractures
Joint injuries
Why Choose UPMC for Sports Medicine?
Our sports medicine consultants at UPMC are highly regarded experts. Part of UPMC Sports Medicine, our specialists have advanced training and provide care centred around your specific needs.
Additionally, we are long term partners of the HSE (Health Service Executive) and private insurers, and work diligently to ensure everyone has access to high-quality health care, delivered in a timely fashion.
Our Consultants