UPMC International at our National Ploughing Championships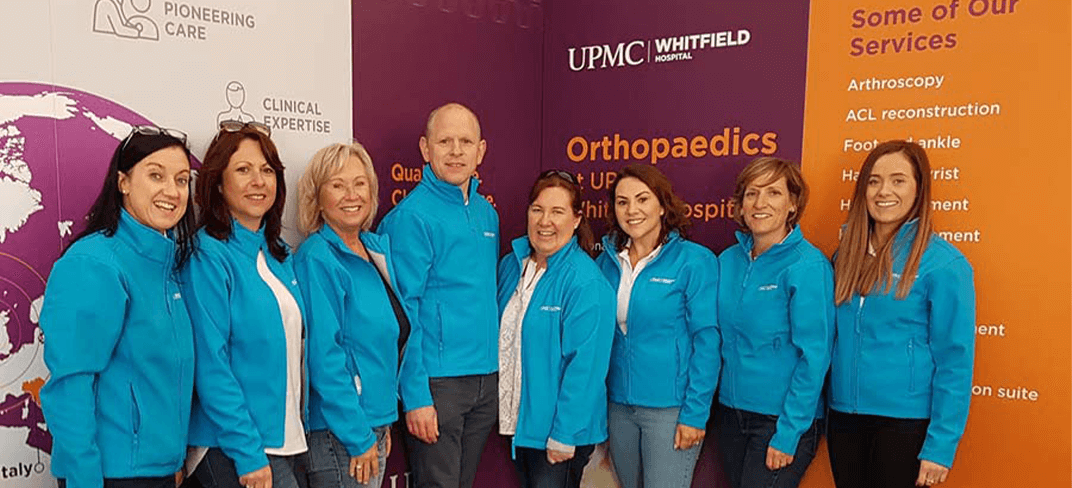 17 September 2019 — UPMC Whitfield Hospital extended a warm Waterford welcome to our new UPMC International Vice President of Nursing and Quality, Tamra Minton (third from left), this week.
West Virginia native Tamra is a veteran nursing leader who will help direct the sharing and implementation of health care quality best practices and measurement across UPMC's operations in Ireland. This includes UPMC Whitfield Hospital in Waterford; the UPMC Hillman Cancer Centre, which has locations in Waterford and Cork; our new UPMC Carlow Outreach Centre; and the UPMC Concussion Network, the first countrywide network of healthcare providers for the diagnosis and treatment of concussion.
Tamra will spend the week working alongside our General Manager Trish Lane, our Director of Nursing Gwen Daniels and their teams at UPMC Whitfield Hospital. But we couldn't miss the opportunity to also give her a real taste of Irish life – by spending a day at our tent at the National Ploughing Championships in Carlow!
And fair play to Tamra, she rolled up her sleeves and got stuck in – chatting to attendees from all over the country about UPMC's services and facilities in Ireland!
Global leader
Working with public and private partners not only in Ireland but also at our hospitals in Italy, China and Kazakhstan, UPMC is a leader in sharing its advanced clinical practices, technologies and management skills internationally, with a focus on offering world-class care close to home in the countries it serves.
"I have seen firsthand the exceptional care UPMC provides in western Pennsylvania, and I look forward to playing a role in sharing those abilities with the Irish team," Tamra said.
During her career, Tamra was the Vice President of Patient Care Services and Chief Nursing Officer at UPMC East, where she helped to open the hospital in 2012 and develop the UPMC International Training Centre based there.
"As UPMC International continues to expand to bring high-quality health care to more communities across the globe, it is critical to have clinical leaders like Tammy to advance those efforts," said Chuck Bogosta, president of UPMC International. "Her knowledge of UPMC and deep understanding of how to drive clinical and operational excellence make her the perfect fit for this key role on the international team."