Season of goodwill at UPMC Whitfield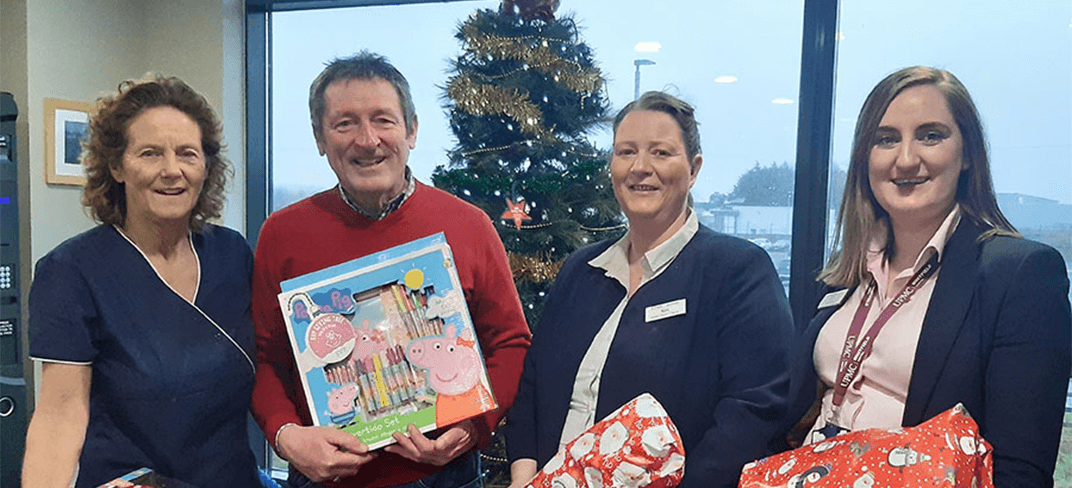 19 December 2019 — The season of goodwill prevails at UPMC Whitfield this week, with past and present staff members working together to raise funds for a number of local charities.
Members of the hospital's volunteer group Na Cairde, which is made up of retired staff members, have been collecting donations for Waterford Rotary Club at UPMC Whitfield's first ever Memorial Tree for the past month. All proceeds from the Memorial Tree go to Waterford Hospice and the response from staff, patients and visitors has been exceptional, according to Na Cairde member Mary O'Driscoll:
"People love helping out a good cause and this is such a good cause. But that spirit has always been here at Whitfield. I worked here for over ten years and I can remember so many causes and fundraising events that people supported over the years. There's fantastic goodwill here."
Betty Fitzgerald, who worked at the hospital's Endoscopy department for almost five years, said Na Cairde members have thoroughly enjoyed helping out with the Memorial Tree: "I'm retired about seven years now and I've loved getting the opportunity to catch up with people that I haven't seen in years. I don't feel like I was giving up my time, it was something enjoyable to do, to help out a very worthwhile charity."
Meanwhile Joint School nurse Jo Breheny organised another charitable Christmas tree at the hospital this year, the Giving Tree in aid of the St Vincent de Paul. There was overwhelming generosity from staff across the hospital, who donated toys and other gifts for children and teenagers in the Waterford area.