New Memorial Tree takes root at UPMC Whitfield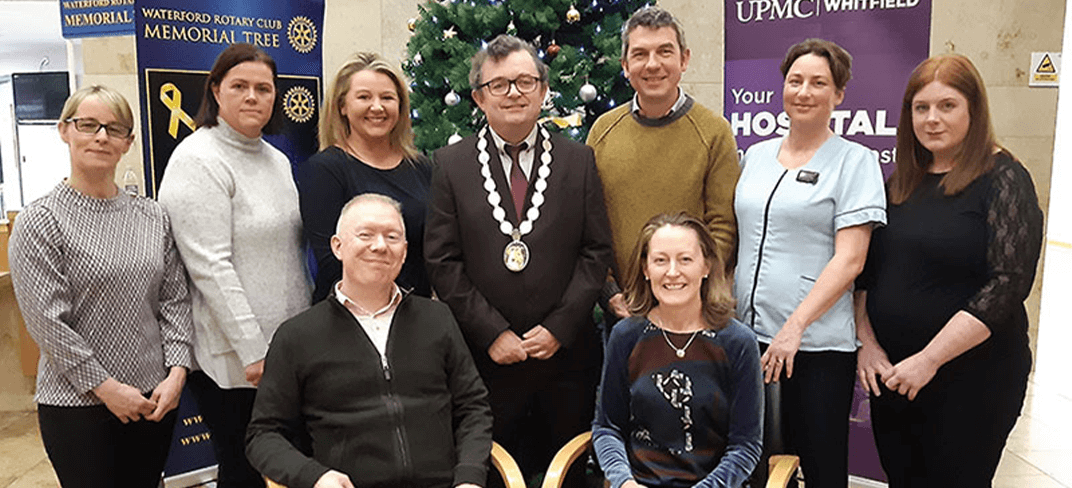 20 November 2019 — UPMC Whitfield Hospital hosted a Memorial Service to remember deceased patients and loved ones on Friday, 15th November. The annual service was organised by staff at the hospital and was followed by a special launch of the first ever Waterford Rotary Club Memorial Tree at UPMC Whitfield.
A central feature of Christmas in Waterford for more than 20 years, the Rotary Memorial Tree in John Roberts Square has become a well-known way to remember deceased family and friends while supporting the fantastic work of Waterford Hospice. This year, for the first time, visitors to UPMC Whitfield can call to the tree in the foyer and make a donation to Waterford Hospice. Members of UPMC Whitfield's retired staff volunteer group 'Na Cairde' will be selling the ribbons throughout the festive season at the hospital.
Deputy Mayor, Cllr. Seamus Ryan, who officially launched the Memorial Tree, said:
"I'm delighted to launch this new initiative by UPMC Whitfield and Waterford Rotary Club. This can only add to the success of the Rotary Club Memorial Tree, which has been a Christmas tradition in Waterford for over 20 years and has done so much to help Waterford Hospice."
Gwen Daniels, Director of Nursing at UPMC Whitfield Hospital, added:"We are delighted to support the Rotary Club and Waterford Hospice in bringing a Rotary Tree to the hospital. The tree is such a meaningful way of remembering our loved ones at Christmas time whilst also raising money for such a fantastic cause. And it is especially fitting that we launch the tree after our annual Memorial Service, which is always such a special night for our staff, patients, former patients and their family and friend