UPMC hosts over 100 healthcare professionals at inaugural Sports Medicine Roadshow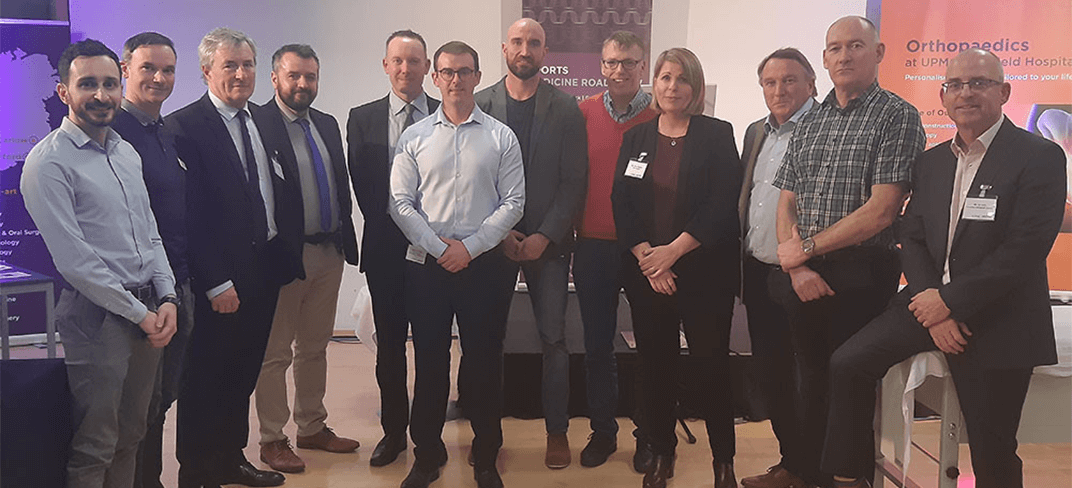 24 October 2019 — Faculty members at the Waterford Sports Medicine Roadshow, from left, David Filan, Shane Walsh, Mr Tadhg O'Sullivan, Dermot Keyes, MC, Mr Patrick Carton, Derek O'Neill, Joey O'Brien, Dr Tadhg Crowley, Mary Gleasure, Eddie Jackman, Niall Geoghegan and Mr Ian Kelly.
Over 100 healthcare professionals from across Waterford and the South East attended UPMC Whitfield Hospital's inaugural Sports Medicine Roadshow at WIT Arena on Wednesday (23rd October, 2019).
Convened by Mr. Patrick Carton, a full-time orthopaedic consultant based at UPMC Whitfield Hospital, the event attracted GPs, physiotherapists and other healthcare professionals from diverse disciplines with a specialist interest in sports medicine. Discussion and debate focused on best practice in injury prevention and rehabilitation.
"This exciting event brought together some of Ireland's leading medical practitioners to pool knowledge and discuss the best surgical and non-surgical approaches to the most common sports injuries affecting our athletes", Mr. Carton noted.
"With events in five different counties it's a fantastic opportunity for local GPs, physios and doctors, as well as managers and coaches, to learn more about athlete welfare and injury prevention. I hope that everyone involved in the Sports Medicine Roadshow this year will continue to actively participate in helping us to develop a working Sports Medicine Network across Ireland that will allow athletes to have local and timely access to high-quality diagnostics and treatments."
The Waterford event was the first of five taking place across the country. The Sports Medicine Roadshow will also visit venues in Limerick, Galway, Carlow and Cork next week and booking for this free event is through Eventbrite.ie.