UPMC announced as 'Official Healthcare Partner of GAA/GPA'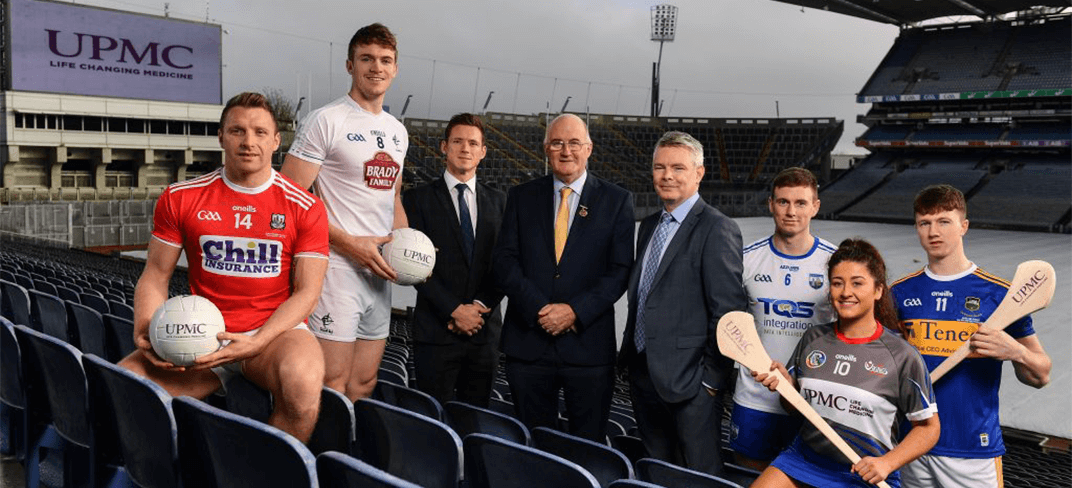 26 November 2019 — UPMC has joined with the Gaelic Athletic Association (GAA) and Gaelic Players Association (GPA) as Official Healthcare Partner of the GAA/GPA.
The partnership and sponsorship agreement, announced at Croke Park in Dublin on Monday (25th November, 2019) means that UPMC will work with these sporting organisations to promote the health of Gaelic players and the communities in which they play.
"UPMC has a long tradition of caring for athletes at all levels, including the Pittsburgh Steelers and Pittsburgh Penguins" said David Beirne, senior vice president of UPMC International and managing director of UPMC in Ireland. "This partnership with the GAA and GPA will allow us to raise awareness of UPMC's world-class care in Ireland while working with the leaders of these sporting organisations to find innovative ways to support the well-being of their players on and off the field."
Uachtarán CLG, John Horan, said:"We are delighted to launch our official partnership with UPMC. This launch follows years of the GAA working together with UPMC providing concussion protocol training to those who look after our senior inter-county teams. This partnership is a mechanism to build on our great relationship in conjunction with the Gaelic Players Association allowing us to assist medical teams in providing healthcare to our players that is in line with international best practice in a range of areas."
Paul Flynn, CEO of the GPA, added:"Our work in the GPA falls under three pillars. We represent our members' interests when it comes to all matters relating to our games; we work to protect their welfare; and we support their development.
With the pillar of welfare in mind, this partnership with UPMC will be hugely beneficial to our members and we look forward to working with UPMC and the GAA to develop best in class ways to safeguard their health and wellbeing. We also look forward to partnering with UPMC in helping raise awareness of the work they do".