UPMC recognises quality of mentoring to WIT nursing students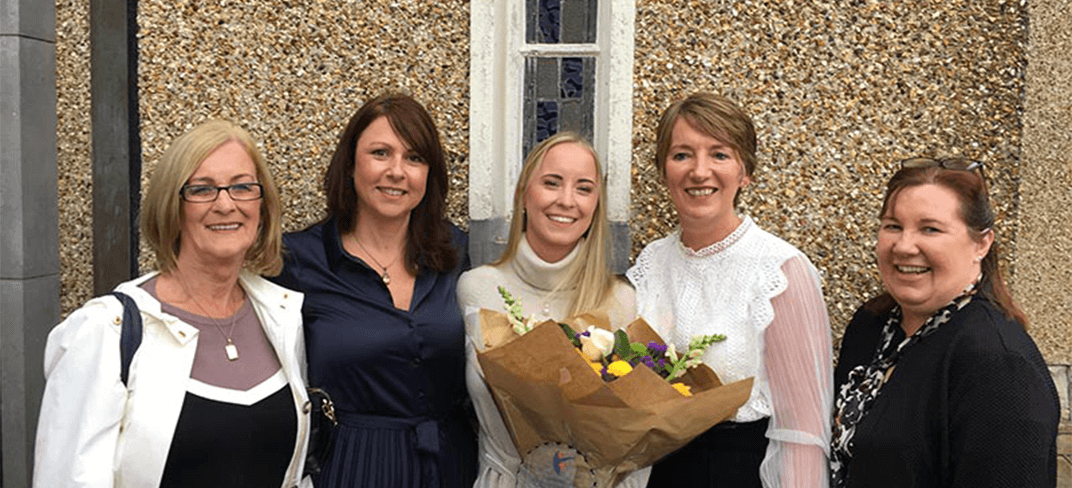 27 September 2019 — The UPMC-sponsored Preceptor of the Year Awards, which recognise clinical staff who make an outstanding contribution as a mentor to undergraduate nursing students, were presented this week.
There were three categories in this year's awards: for clinical staff who act as a preceptor to students on Waterford Institute of Technology's BSc (Hons) in General Nursing; the BSc (Hons) in Psychiatric Nursing; and the BSc (Hons) in Intellectual Disability Nursing.
This year's winners are Fiona Scanlon (General); Mairéad St John (Psychiatry) and Elaine Whelan (Intellectual Disability).
The General Nursing award was presented during UHW's 13th annual Student Celebration Ceremony for the WIT General Nursing Class of 2019, held to mark the end of their training and placements in the various hospitals and healthcare facilities across the HSE South East Area, including UPMC Whitfield Hospital.
Gwen Daniels (second from left), UPMC Whitfield Hospital's Director of Nursing and our General Manager Patricia Lane (right), were at UHW to congratulate Fiona.
"UPMC is proud to work with the Department of Nursing and Healthcare at WIT and trainee hospitals across the region to promote excellence in clinical education and preceptorship", Gwen Daniels commented. "The importance of an experienced nurse to guide and support a student during their clinical placement cannot be overstated. It can have an inspirational impact on a student, helping them to apply the theories of teaching from WIT in a supported clinical learning environment."
Dr Sara Kennedy, Head of Department of Nursing & Health Care, WIT, added:
"It gives me great joy today to see the work of preceptors acknowledged through the sponsorship of this award. A preceptor supports and helps nursing students to attain their goals and learn from their experiences while on clinical placement. Students in WIT are very fortunate that we have in excess of 250 clinical placement sites to which we allocate students. During these placements they encounter many roles models who we hope will guide and inspire them throughout their nursing careers.
"We would like to thank UPMC Whitfield, one of our clinical partners, for their recognition of the preceptor's role. Students have a unique opportunity to visit clinical areas in General, Psychiatric and Intellectual Disability nursing and are continuously helped to become the best that they can be by the preceptors. This is when real learning occurs. Through working together with a more experienced learner they learn from an experienced clinician. We are extremely grateful in WIT for the contribution of the preceptors and to UPMC for acknowledging their hard work."
Orla Kavanagh, Interim Director of Nursing at University Hospital Waterford, said:
"University Hospital Waterford is delighted to host this celebration ceremony for WIT's nursing students. The ceremony has had a long tradition of being held here in the hospital church, in what is a very special and memorable occasion for the newly qualified nurses, their families, friends and those that supported them throughout their four year degree training programme. We would like to extend our congratulations to this group of newly qualified nurses and wish them well for their future careers."