UPMC in Ireland Celebrates International Nurses Day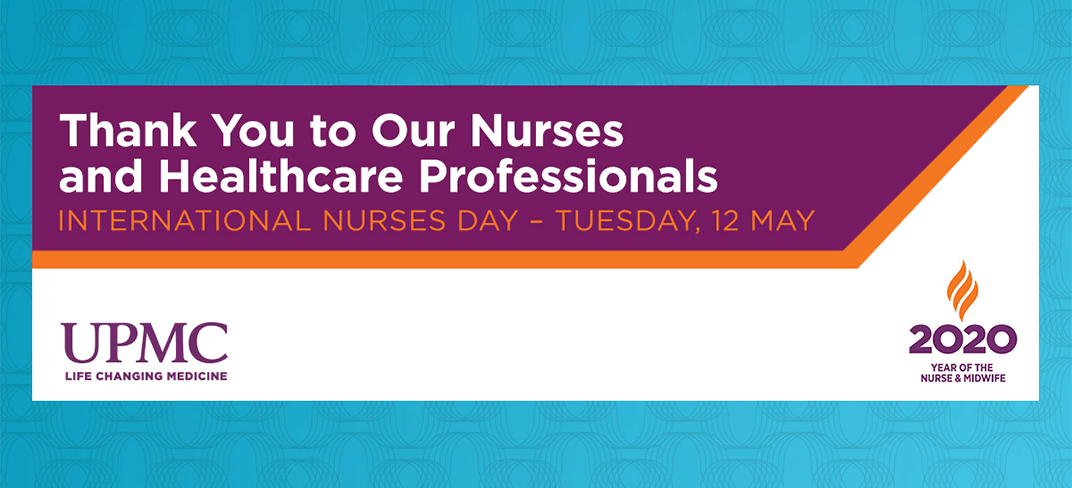 11 May 2020 — Many Thanks to All Our Terrific Nurses
UPMC is so grateful to our amazing team of nurses at our hospitals and facilities in Ireland. As we kick off our International Nurses Day celebrations, we thought you might enjoy reading about a few who exemplify our entire staff. Each day, they bring their caring, positive attitudes to work and brighten our days and the days of our patients. Read on for their wonderful stories.
---
Noreen Quilty, R.N.
UPMC Whitfield Hospital
Noreen is a theatre nurse who has always been determined to follow her chosen profession of nursing. "Nursing has provided me with the opportunity to travel, has given me lifelong friendships, and enabled me to work in a constantly evolving job where no two days are the same," she says, "It is lovely to meet different people every day and provide them with the skilled care and compassion that Irish nurses are renowned for."
After working in Australia and Dublin, Noreen is now a key member of the orthopaedic theatre at UPMC Whitfield Hospital. "Orthopaedics is a very interesting discipline, as it is constantly improving and evolving. New methods and procedures are regularly coming on stream to enhance the patient's quality of life and surgical experience."
---
Maria Fitzpatrick, R.N.
UPMC Kildare Hospital
Drawing on experience from all over the world, including time spent as a nurse during the Gulf War in Saudi Arabia, Maria has been a dependable part of the UPMC Kildare Hospital team since she first joined UPMC Kildare Hospital (formerly Clane Hospital) 15 years ago. She has an interest in health promotion and in 1997 achieved a diploma in health promotion and community health from the Royal College of Surgeons.
"What I love most about the hospital is the people I work with. We are like one big happy family," she said. "I can honestly say I enjoy coming into work every day. I am proud of the work that my colleagues and I do here every single day."
---
Nora Feeney, R.N.
UPMC Whitfield Hospital
Nora turned the admiration she felt for nurses as a child into a career she is passionate about years later. An important member of our urology nursing team, Nora is happy to assist and support colleagues in an ever-changing field.
Though COVID-19 has called for many changes, Nora has embraced the challenge, especially working side-by-side with staff from local hospitals. "Thankfully, we have a well-established interconnection with our colleagues in University Hospital Waterford (UHW), with both consultants and clinical nurse specialists alike," said Nora. "Being in partnership with UHW and its excellent nursing staff has driven me to want to return to education and complete invaluable urology courses through the Royal College of Surgeons in Ireland."
---
Janet Hannan, R.N.
UPMC Kildare Hospital
"I had your measure, and you had mine." UPMC Kildare Hospital nurse, Janet, believes this line from Irish poet Seamus Heaney's, "Tate's Avenue," perfectly encapsulates the nurse/patient relationship.
Beginning her career as a veterinary nurse, Janet returned to college to pursue general and paediatric nursing. Janet says: "This I can say whole heartedly is the best life decision I have made and has allowed me to fulfill my dream in the ultimate caring profession."
Now a nurse focusing on haemovigilance (ensuring transfusion processes are safe), she takes heart in the final words of Seamus Heaney – "Noli timere" – a Latin phrase meaning "don't be afraid." I hope that as a profession, we as nurses are advocates of such a statement and always in a position to ensure that Heaney's words ring through and are experienced by every patient and their family."
---
Jo Breheny, C.N.M.
UPMC Whitfield Hospital
Jo was inspired to become a nurse by her mother, who would share stories with her regularly. "I admired her so much that I wanted to be like her," said Jo. Though her mother sadly passed away while Jo was in secondary school, it only confirmed for Jo that nursing was the road she wanted to take.
After receiving a postgraduate diploma in orthopaedics, spinal injuries, and midwifery, Jo held a series of posts that affirmed her desire to help form the minds of the next generation of nurses. In her current role as a clinical placement coordinator, Jo guides and supports nursing students from colleges such as the Waterford Institute of Technology (WIT) during their clinical placement.
"I really enjoy sharing my knowledge and experience. I have such a variety of duties, and can be hands-on with both patients and students. It is a demanding role, but I get great satisfaction and enjoyment from it."
---
Jennifer Matthews, C.N.S.
UPMC Whitfield Hospital
As one of our specialist oncology nurses, Jen is an invaluable part of our cancer care team. But oncology was not a specialty Jen ever envisioned when she first began her nursing career.
"My first real introduction was working as an agency nurse in The Royal Marsden Hospital in London," she said. "It opened my eyes to the complexity of cancer and cancer treatments, and to what patients go through. Recognising the vital role specialist cancer nurses play in caring for patients with a cancer diagnosis and the complexity of their needs really resonated with me and I knew this was where I wanted to specialise."
Further specializing in oncology and radiotherapy, she is especially proud of her contributions to patient care via clinical trials. When asked what inspires her, Jen replied: "My colleagues and my patients – witnessing what each of my colleagues brings to the team and how dedicated each of them are to giving 110% every day. Always with a smile and good humour!"
---
David Costa, R.N.
UPMC Whitfield Hospital
With a lifelong interest in helping others and in subjects like biology and chemistry, nursing has been an ideal career for David. "I found nursing to be a great balance between my options, having science as foundation, while encompassing the human component of care with people.
As a specialist in Anaesthetics and Recovery, David works closely with consultants and patients in the UPMC Whitfield Hospital surgery department. He is temporarily redeployed to Kilcreene Hospital in Kilkenny, where he assists a multidisciplinary team. In the future, David hopes to participate in Operation Walk Ireland, which provides hip and knee replacements for people with advanced arthritis in developing countries.
---
Sharon Doran, R.N.
UPMC Whitfield Hospital
For as long as she can remember, Sharon has wanted to be a nurse. "I can recall being in hospital at a very young age and being in awe of the nurses looking after me. For me, there was no other career path I wanted to take."
Though it meant leaving her family and friends at a young age, Sharon chose to train as a nurse in London. The experience led to her work on several key projects. She was part of the team that set up the original transfusion service at Whitfield Clinic in 2004 and watched it gain INAB (Irish National Accreditation Board) accreditation. Now the acting clinical nurse manager in the oncology day ward at UPMC Whitfield Hospital, Sharon works to improve her department while supporting oncology patients from UHW. She plans to return to college to gain her higher diploma in haematology.
---
Amy Wei, R.N.
UPMC Whitfield Hospital
Nursing was not Amy's career choice, initially. She was sent to nursing school in Chengdu, China, by her parents, who wanted someone with professional knowledge to support them as they grew older. There, she became inspired by the story of Florence Nightingale and found her motivation to become an "Angel in White," as nurses are sometimes called in China.
Amy gained experience as a surgical nurse in China and Saudi Arabia before coming to UPMC Whitfield Hospital in 2008. On this day of celebrating nurses, Amy also wants to thank her parents, who helped guide her to a profession that she now chooses for herself every day. "For all the years in nursing, there have been hard times but it is challenging, interesting, and most of all it makes a difference in people's daily lives. I'm proud to be a nurse.
---
Susan McMahon, R.N.
UPMC Whitfield Hospital
Though Susan did not initially know what she wanted to do when she left school, it is clear she has found her calling. "I really enjoyed my cardiology placements," she said, "especially the systematic problem-solving side of ECG interpretation. I also loved the excitement and pace of A&E. After working with a chest pain specialist nurse, I knew that acute cardiology was what I wanted to work in."
One of the newest members of our team, Susan was recruited for our new Cardiac Care Unit at UPMC Whitfield Hospital. She enjoys the busy and dynamic environment, and gets satisfaction from seeing patients improve.
"I can honestly say being a nurse has helped mould me into the person I am today, it has improved my confidence and skills, such as communication, team working, and attention to detail, and I have transferred these skills into other areas of my life."
---
Amy O'Sullivan, C.N.S.
UPMC Whitfield Hospital
Amy wanted a career that would present her with daily challenges and would allow her to help people through some of the hardest times in their lives. Nursing ticks all those boxes and, fortunately, also allows her to be part of her patients' life stories.
As an infection prevention and control specialist, Amy focuses on keeping patients safe from acquired infections. "It is an ever-evolving discipline," she says. "My day is always so varied and interesting and can include anything from teaching hand hygiene and general infection control to liaising with cleaning supervisors about cleaning and disinfection practices. At the end of each day, it is the satisfaction I get from my day's work in a fast-moving evolving profession that keeps me enthralled in the role."
---
Susan MacNamee, R.N.
UPMC Kildare Hospital
After her first ten-year period as a nurse, Susan had a unique experience that left her with a new perspective on nursing. While on a career break, serious health issues left Susan fighting for her life. She was now being nursed rather than delivering the nursing.
"What I learnt during this time is that nurses are incredible people!" said Susan. "I saw at first hand the impact great nurses have on a patient and their family. I will be forever grateful to those who helped me along my journey to get me home and well again."
Susan returned to nursing and has been at UPMC Kildare Hospital ever since. "I work with the loveliest bunch of people. We work in a really welcoming environment with a culture entirely committed to patient care and wellbeing."
---
Carmel Smyth, C.N.M.
UPMC Whitfield Hospital
Carmel's love for people originally led her to a career in tourism. In Galway, she continued her camogie career and later trained and qualified as a nurse. After a short time in London, Carmel returned to Ireland to specialize in transplants and vascular surgery.
At UPMC Whitfield Hospital, Carmel is the clinical nurse manager for our ophthalmology theatre and age-related macular degeneration (AMD) clinic. There, she supports all ophthalmology consultants and provides excellent training and leadership to her team.
---
Audrey Lawlor, C.N.M.
UPMC Whitfield Hospital
Audrey credits two events in her formative years for her desire to become a nurse. Each year, she would ask Santa for a nurse's uniform and when her sister was diagnosed with leukemia, she remembers watching in awe the nurses who cared for her.
Temporarily redeployed as a clinical nurse manager at Kilcreene Hospital in Kilkenny, Audrey is using this opportunity to enhance her skills in lean healthcare. "I feel proud to be a nurse," said Audrey. "I am deeply honored to be one in these challenging times, especially experiencing all the love and respect the public are showing towards us. I consider myself a very lucky lady as I do a job that I love."
---
Jennifer Turner, C.N.S.
Cork Radiotherapy
Prior to joining UPMC, Jennifer worked and trained in a variety of locations, including Cork, Dublin, the U.K., and Australia. Since 2010, she has gained valuable experience working in acute respiratory care, surgical care, ambulatory care, and immunology. She recently received a post graduate diploma in adult oncology nursing and we are thrilled that she is part of our Cork radiotherapy team.