UPMC Sponsors Solas Cancer Support Centre Run and Walk for Life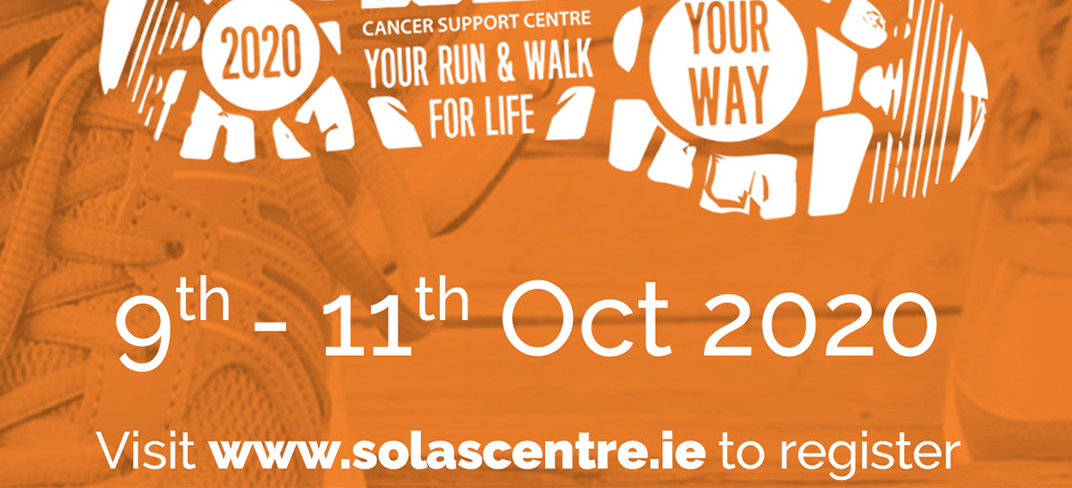 16 July 2020 – UPMC is pleased to be the main sponsor of the Solas Cancer Support Centre "Run and Walk for Life" for the next three years.
The event is the main annual fundraiser for the Solas Centre, which is nearly fully funded by public donations to fulfill its mission of providing high quality cancer support services to the people of Waterford and the South East. Services offered include counselling, relaxation therapies, and group support services. In response to COVID-19 restrictions, the Centre has adjusted their range of supports to offer counselling and art psychotherapy, information and printed booklets, along with on-line wellness programs.
The Solas Centre has adapted their plans for this year's event. The fundraiser will be virtual in 2020, spread across Oct. 9-11. Participants will have the opportunity to choose their distance, route, and day in undertaking their own challenge.
Chair of the Solas Cancer Support Centre, Barry Monaghan, explains what this event means to the charity: "With no government funding in 2019 the charity was 96% funded by public donations and this huge community effort allows us to sustain the service each year. We were very proud to have been able to support a record number of 964 clients in the 2019 calendar year, which was a 35% increase on the preceding year. 2020 started with a further 19% increase in people using the Centre's services in Waterford City and an ever-increasing uptake in our west Waterford satellite centre in Dungarvan. Unfortunately our face-to- face work stopped in line with government guidelines in mid March; at the same time all our planned fundraising events were also cancelled. 2020 will be a challenging year for us financially and we hope that we can count on the support we have received for the Run and Walk for Life over the last 13 years'.
Attending the launch, Ms. Trish Lane, General Manager of UPMC Whitfield Hospital, said, "UPMC is delighted to partner yet again with the Solas Cancer Support Centre. To become the main sponsor of the Solas Run and Walk for Life was an easy decision to make given the fact that the proceeds benefit cancer patients and their families from the South East," she added.
"For over a decade Solas service users often have attended UPMC Whitfield Hospital for oncology treatment and as such our continuing partnership with Solas ensures these patients receive the holistic care required during and after their cancer journey," concluded Ms. Lane.
This year the organisers hopes to encourage family and friends all over the world who haven't been able to make it back to Waterford this year due to travel restrictions to take part in October. The aim this year is to see the iconic orange UPMC-sponsored t-shirts in Sydney, Shanghai, San Francisco or wherever the Waterford diaspora might take part in the 2020 event.
For online registration visit www.solascentre.ie. The registration fee is €25 per adult and €15 per child and this fee includes the iconic orange t-shirt.