Advanced Management of Hamstring Injuries in Sports – Webinar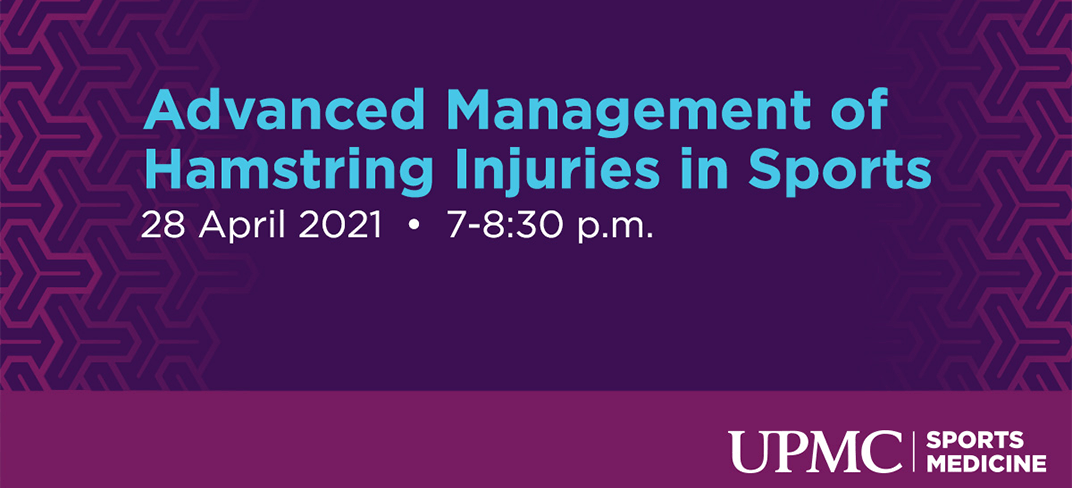 9 June 2021 – This event has now ended. Thank you to everybody who joined us on the night.
Event Chairman
Mr. Patrick Carton MD, FRCS (Orth), FFSEM – Director of Orthopaedic Sports Medicine, UPMC in Ireland
Presenters and Topics
Diagnosis and Classification of Hamstring Injuries
Dr. Dualtach Mac Colgain, BSc, MSc, MBChB, MISCP, MICGP, MFSEM UPMC Sports Medicine Physician
A Multifactorial Strength and Conditioning Approach to Hamstring Injury Prevention
Mr. Joey O'Brien, MSc Strength and Conditioning, Waterford Institute of Technology (WIT)
The Benefits of Eccentric Exercises During Hamstring Rehabilitation
Mr. Derek O'Neill, MMEdSc, MISCP, Senior Physiotherapist,UPMC Sports Medicine
Biodex Isometric Strength Testing: Athlete Demo
Discussion and Close
Presenters
Mr. Patrick Carton, MD, FRCS (Orth), FFSEM, Consultant Orthopaedic Surgeon, Director of Orthopaedic Sports Medicine, UPMC in Ireland
Mr. Patrick Carton is a consultant orthopaedic surgeon, specialising in sports-related hip, groin, and knee injuries and reconstructive surgery of the hip joint. He is an internationally renowned specialist in preservation hip surgery and to date, has performed more than 3,000 'keyhole' hip arthroscopy procedures for the treatment of labral tears and femoroacetabular impingement. He is an active member of the International Society of Hip Arthroscopy, a fellow of the Faculty of Sports and Exercise Medicine, Royal College of Surgeon Ireland and an honorary fellow of the World Society of Sports and Exercise Medicine. He also serves as an honorary research associate at the Department of Health, Sports, and Exercise at Waterford Institute of Technology (WIT).
Dr. Dualtach Mac Colgáin, GP, Sports Medicine Doctor, UPMC in Ireland
Dr. Mac Colgáin is a graduate of the University of Glasgow, having previously obtained an honours degree in physiotherapy from University College Dublin. He also holds a master's in Sports and Exercise Medicine from Trinity College and is a member of the Faculty of Sports and Exercise Medicine (MFSEM). Dr. Mac Colgáin is team doctor to the Meath Senior Gaelic Football and Dundalk FC teams. He has many years' experience working across multiple sporting disciplines at an elite level. His special interest is in the assessment and management of musculoskeletal injuries and pitchside care of athletes. Dr. Mac Colgáin is a retired elite athlete and has represented Ireland in sailing at World and European Championship level. He is also an Irish National Championship winning rowing coach.
Joey O' Brien, PhD Candidate, MSc Strength and Conditioning, Waterford Institute of Technlogy (WIT) Health and Performance
Joey O' Brien is a graduate of Waterford Institute of Technology with first-class honours in sports coaching and performance. He holds a master's in strength and conditioning from the Institute of Technology, Carlow. He is currently a PhD candidate, researching the effect of different strength training modalities on eccentric hamstring strength. He works as a strength and conditioning coach and sports scientist for WIT, UPMC, and elite squads and athletes. In recent years, he has worked with the Waterford senior hurlers and Waterford FC seniors squad. He is Head of Strength and Conditioning for the WIT Sports Scholarship program, where he provides performance services for a wide variety of sports. He is an accredited strength and conditioning coach with the NSCA.
Derek O'Neill, MSc, MMEdSc, MISCP, Chartered Physiotherapist
Derek O'Neill is a graduate of Brighton University where he obtained a first-class honours degree in physiotherapy. He also holds a post-graduate diploma in musculoskeletal medicine and a MSc in sports medicine at University College Cork. He completed his training in London with the NHS specialised in musculoskeletal rehabilitation. While in the UK he worked with elite athletes at Queens Park Rangers, GB athletics, and national league rugby. Derek has a specialised interest in concussion rehabilitation, having training with the internationally accredited UPMC Concussion Clinic in Pittsburgh. He is the network lead for the UPMC Concussion Programme in Ireland and is the lead physiotherapist with Waterford Football Club and UPMC Sports Medicine at WIT Sports Arena. He is also a guest lecturer on the master's programme in sports and exercises medicine at UCC.