Oncology: Stereotactic Radio Surgery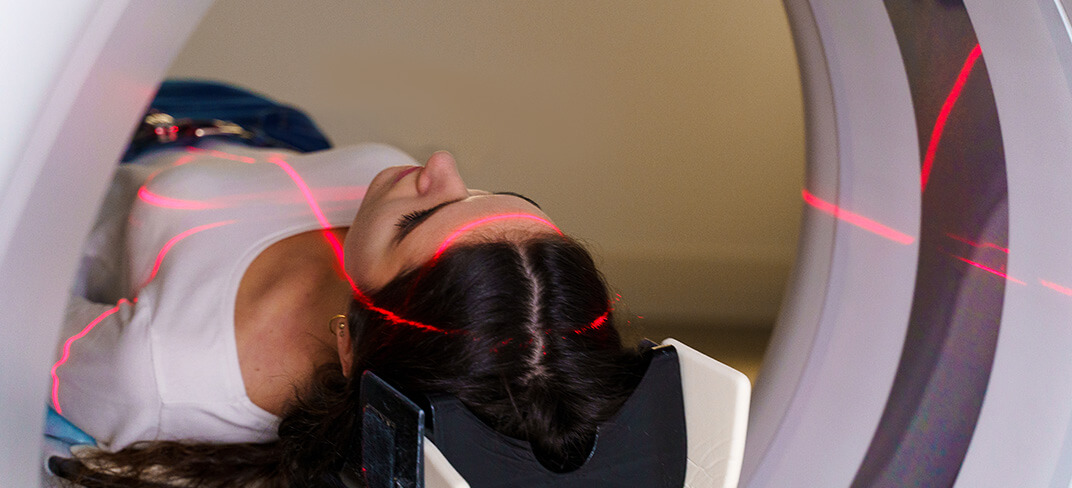 Stereotactic radiosurgery (SRS) and stereotactic body radiotherapy (SBRT) are radiation therapies used to treat cancer. UPMC experts use these therapies to treat inoperable tumours that affect the brain, nervous system, and organs.
Cancer happens when cells grow in ways that aren't normal. Our consultants use high doses of energy (radiation) to damage DNA inside cancer cells. When cancer cells become damaged, they can't divide and grow anymore.
Only Location in Munster – Where to Access Our Services
We offer stereotactic radiotherapy services at Bon Secours Radiotherapy Cork in Partnership with UPMC Hillman Cancer Centre. This is the only location in Munster where you can receive this state-of-the-art radiotherapy treatment without travelling far from home. Contact our cancer care team to learn more about this specialty radiation therapy. You will need a referral from your oncologist or GP to access our services.
Stereotactic Radiotherapy at UPMC in Ireland
Our consultants use advanced technologies to perform stereotactic radiosurgery and stereotactic body radiotherapy. They include:
Computerised 3D image guidance to identify a tumour's exact location.
Tools (linear acceleration) that bend energy beams into the precise shape of the tumour.
Systems that attack tumours with high-energy beams from different angles all at once.
UPMC consultants use the Edge™ system to design precise radiation therapy treatment plans. These high doses destroy cancerous tissue and spare healthy tissue.
Stereotactic radiotherapies we offer include:
Stereotactic radiosurgery
We use high doses of focused energy to target tumours and abnormalities in the brain and spine. Patients are positioned in a special frame. We then use imaging tests such as computed tomography (CT) scan or magnetic resonance imaging (MRI) to confirm the tumour's location.
When treatment begins, consultants aim many high-energy beams directly at the tumour. Patients won't need any anaesthesia with SRS or have any incisions.
Stereotactic body radiotherapy
Consultants use high-energy beams to precisely target and destroy tumours in the body. The patient is positioned and images are taken to ensure the tumour's exact location.
We use these images to guide radiation dosing. Image guidance ensures our consultants deliver radiation within millimetres of the tumour. This precise dosing aims to destroy cancer cells without affecting healthy tissue whenever possible.
Conditions we treat with stereotactic radiotherapy
Our consultants use stereotactic radiotherapy to treat clearly defined tumours. We use these therapies when:
Patients are not healthy enough for surgery
Tumours are unreachable with standard surgery
A treatment plan is always based on the patient's specific condition. Our radiotherapy consultants will review the treatment and its benefits prior to beginning. Stereotactic radiotherapy has many benefits including:
Fewer side effects
Fewer number of treatments
Reduced risk of complications
Conditions we treat with stereotactic radiosurgery
UPMC consultants use stereotactic radiosurgery to treat cancers of the brain, head, neck, and spine. We also treat noncancerous (benign) growths. These conditions include:
Acoustic neuroma (vestibular schwannoma): Benign tumours that grow on the nerve carrying impulses between the ear and the brain.
Arteriovenous fistula: Abnormal pathways in the brain that affect blood flow.
Arteriovenous malformations: Tangled arteries and veins that form a mass in the brain.
Chordomas: Tumours that form where the base of the skull and spine meet.
Glioblastomas: Tumours that grow quickly in tissues of the brain.
Meningiomas: Tumours that grow in the tissue surrounding the brain and spinal cord.
Pituitary adenomas: Tumours of the pituitary gland.
Spinal tumours: Masses in the spine that form when cells grow abnormally.
Trigeminal neuralgia: Nerve pain in the face and jaw.
Conditions we treat with stereotactic body radiotherapy
UPMC consultants use stereotactic body radiotherapy to treat cancers of the internal organs that aren't removable with surgery. We also treat cancer that has spread (metastasized) to other glands or organs. Consultants may use SBRT to treat:
Early-stage lung cancer
Liver cancer
Pancreatic cancer
Prostate cancer
Consultants will consider age, health, and cancer type when determining if SRS or SBRT is right an appropriate treatment option.
Why Choose UPMC for Stereotactic Radiotherapy Services?
Bon Secours Radiotherapy Cork, in partnership with UPMC Hillman Cancer Centre, offers world-class radiotherapy cancer care.
We offer advanced radiotherapy options to help patients achieve the best possible health outcome. Our team uses advanced stereotactic radiotherapy techniques to deliver a customised treatment plan.
We are long term partners of the Health Service Executive (HSE) and private insurers. This partnership ensures timely access to high-quality stereotactic radiotherapy services.