Hospital Amenities at UPMC Whitfield Hospital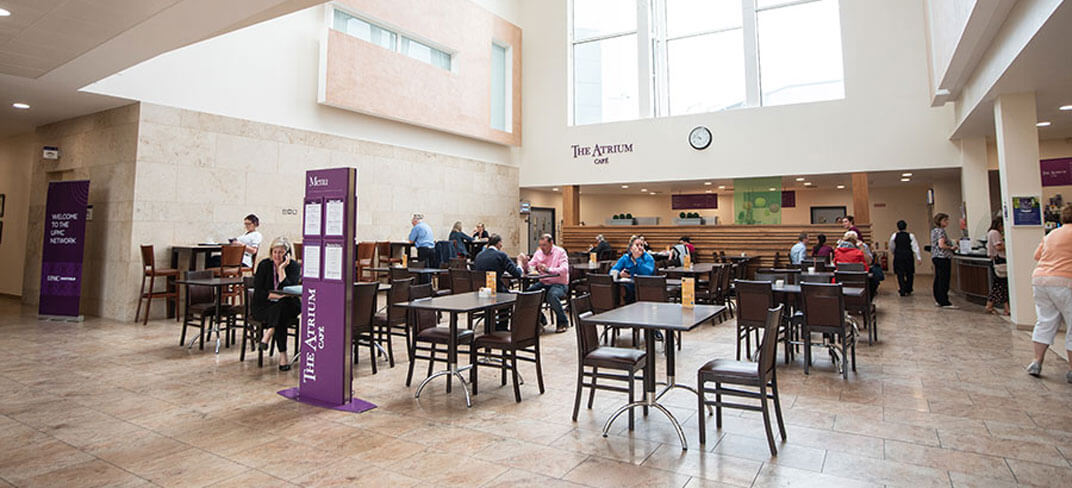 Within minutes of key routes in the South East, UPMC Whitfield Hospital is a state-of-the-art facility with a variety of amenities.
The Atrium Café
The Atrium Café is on the ground floor of the hospital.
It's open to patients and visitors:
8:00 a.m. - 6:00 p.m. Monday – Friday (excluding bank holidays).
10:00 a.m. - 2:00 p.m. on Saturdays.
Closed on Sundays and bank holidays.
The Shop at UPMC Whitfield
You will also find a shop located within the Atrium Café, which has the same operating hours as the restaurant.
The shop has a range of items including daily newspapers, magazines, confectionary, etc. Cigarettes and vaping materials are not sold in the shop.
There is also a daily newspaper round to the wards each morning.
Internet
There is free Wi-Fi at the hospital. The password is "guest."
If you are having trouble connecting to the Wi-Fi, please inform a staff member who will be happy to assist you.
Phones at UPMC Whitfield
Patients have a private telephone located beside their bed.
To make an outside call, the area code is always needed (including for local calls).
Please note there is no charge for local (051 area code), mobile or national calls. If you wish to have international calls activated on your phone, please put a request in with the Nursing Staff (charges for international calls may apply).
Taxi Service
This is available at the reception desk or by requesting any member of staff to contact a taxi on your behalf. There is no charge to call a taxi.