UPMC to Host Inaugural International Sports Medicine Conference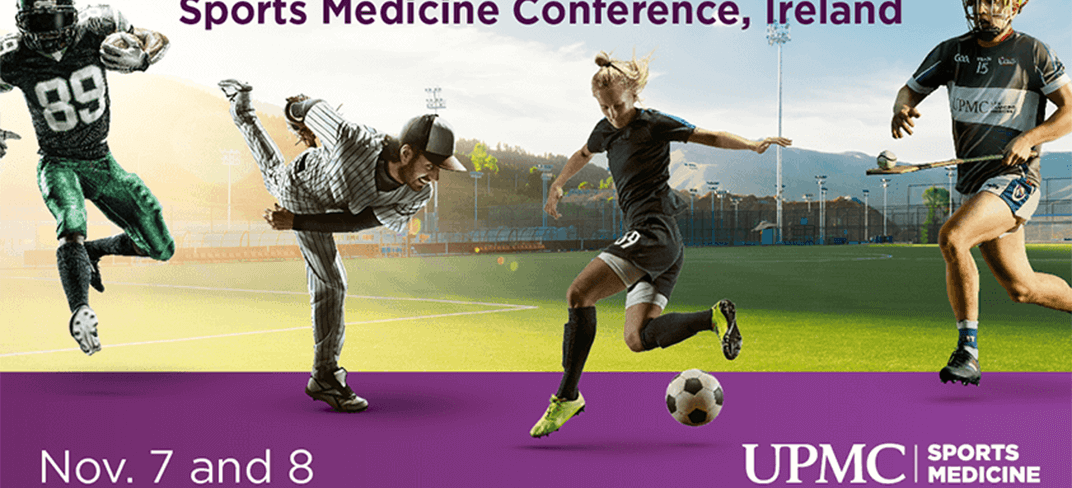 13 October 2020 – General practitioners, specialists, and physiotherapists from across Ireland and around the world are invited to virtually attend UPMC's inaugural International Sports Medicine Conference on 7 and 8 November. The conference, which is free to attend, will bring together leading global experts in sports injury management and treatment, rehabilitation and return-to-play.
The online event will be convened and hosted by Patrick Carton, M.D., director of orthopaedic sports medicine for UPMC in Ireland, and chaired by world-renowned surgeon Freddie H. Fu, M.D., David Silver Professor and chairman of the Department of Orthopaedic Surgery, University of Pittsburgh School of Medicine. Live-streamed sessions will focus on the surgical and non-surgical management of the major sports injuries including ACL and multi-ligament knee reconstruction, athletic hip, groin and hamstring injuries, shoulder instability and cuff injury, complex foot and ankle injuries, and personalised treatment for concussions. Further sessions will highlight updates on optimising recovery, return to play and pre-season preparations.
"UPMC is recognised globally as a leader in sports medicine and orthopaedics, and we are excited to virtually gather our esteemed colleagues from Ireland, Pittsburgh and beyond to share best practices that will improve care for amateur and professional athletes," said Carton, who also is a full-time consultant orthopaedic surgeon based at UPMC Whitfield Hospital in Waterford.
Serving patients across the South East and the Midlands, UPMC is the official healthcare partner of the GAA and GPA, as well as the official sports medicine provider of more than 80 schools, universities, regional teams and events in Pennsylvania, including the Pittsburgh Steelers and Pittsburgh Penguins.
The virtual event coincides with the opening of UPMC's sports medicine clinic at WIT Arena in Waterford, the health system's first international sports medicine location, where patients can receive the types of innovative care discussed at the conference. Carton and his colleagues plan to grow UPMC's programme beyond the South East, giving athletes across the country local and timely access to trusted diagnostic and treatment facilities.
"UPMC is committed to ongoing growth in Ireland, and we look forward to providing world-class sports medicine care as part of our continued investment in the South East," said David Beirne, managing director of UPMC in Ireland. "As clinicians from across the world join us for the International Sports Medicine Conference, we are proud to host an event that will advance care in our communities and globally."