Physiotherapy Services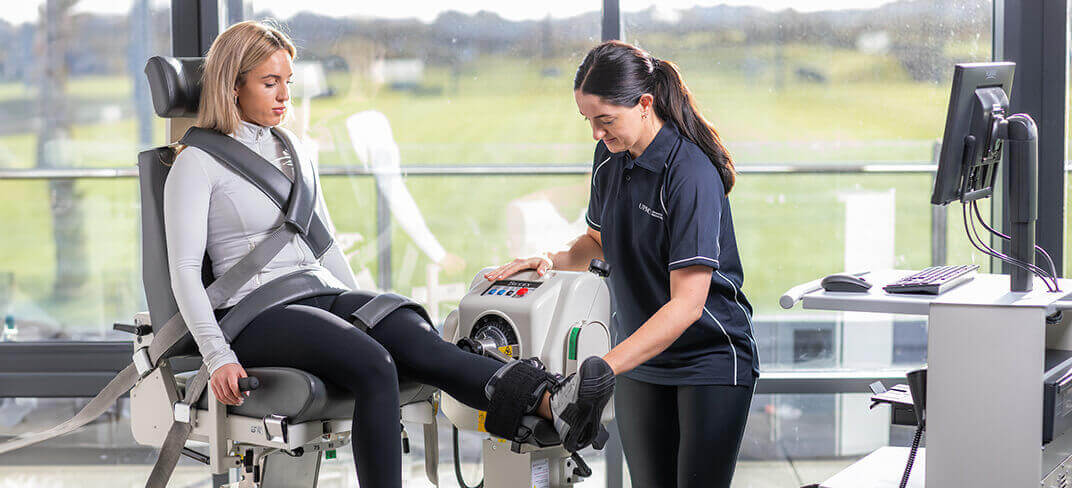 Whether you're recovering from surgery or nursing a hurt knee, the UPMC Physiotherapy Department is here for you. Physiotherapy can help with a range of conditions.
Our physiotherapists use the latest technology and techniques available. Our goal is to get you back to living the most active life possible.
Contact Our Physiotherapy Services
You can make an appointment with or without a referral from your GP. We offer physiotherapy services at the following UPMC locations:
Our locations are close to major road networks and public transport routes. Learn more about travelling to UPMC.
Conditions We Treat with Physiotherapy
Here are some common conditions we treat:
Whiplash: Neck pain from sudden back-and-forth movement, as from a car accident.
Sciatica: Pain in the sciatic nerve from the lower back down the legs.
Past fractures and trauma: Can cause problems as the body compensates for injury.
Post-op orthopaedic surgery: The body may not return to normal function after surgery.
Sports injuries: Knee problems, sprains, pulled muscles, and more.
Overuse injuries: Any injury, like tendonitis or stress fracture, caused by repetitive trauma.
Joint sprains: Injuries of ligaments.
Joint strains: Injuries of muscles or tendons.
Joint and muscle pain due to arthritis: Or related conditions such as fibromyalgia.
Osteoporosis: Low bone mass that leads to decreased strength.
Foot pain: Tendonitis, bone spurs, plantar fasciitis.
Respiratory conditions: COPD and asthma.
Specialised Physiotherapy Services and Treatments at UPMC
UPMC in Ireland offers a wide range of services, programmes, and treatments to help you get stronger and become more active.
They include:
Treatment of bladder and bowel incontinence in women: Physiotherapists can teach pelvic floor exercises, relaxation techniques, or bladder retraining.
Musculoskeletal Treatment
We also offer musculoskeletal treatments which include:
Rapid rehab programme for post-hip and -knee replacement.
Foot and ankle rehab post-surgery.
Sports injury rehab.
Treatment for back, neck, and joint disorders.
Treatment for muscle, ligament, and tendon injuries.
Rheumatology management.
Isokinetic testing.
Soft tissue massage, deep tissue massage, and trigger point release.
Manual therapy including joint mobilisation and manipulations.
Dry needling (treatment that targets trigger points for pain relief.)
Functional rehab.
Core stability rehab.
Strength and conditioning.
Women's health
We provide special services for women's health needs, such as:
Rehab after gynaecologic surgery.
Pelvic floor strengthening classes.
Individual consultations.
Respiratory
We offer assessment and treatment for a range of lung conditions, including:
COPD
Chest infections
Bronchiectasis
Gerontology
Older people have special rehabilitation needs, such as:
Assessment and treatment of geriatric and neurological conditions
Mobility and balance retraining
Exercise prescription
Falls prevention
Isokinetics
Isokinetics is a computerised measurement of muscle function. It provides more detailed information than manual testing. It can:
Assess return to form following an injury or surgery.
Identify potential areas of muscle weakness or imbalances that may lead to injury.
Compare the strength of different sides of the body.
Measure progress.
Rehabilitate certain muscle groups using bio-feedback.
Why Choose UPMC for Physiotherapy?
UPMC physiotherapists use the latest technology for rehab and recovery, helping people of all ages and abilities reach their potential.
Our physiotherapists are members of the Irish Society of Chartered Physiotherapists. They work with doctors to meet each person's individual needs in recovery.
Additionally, we are long term partners of the HSE (Health Service Executive) and private insurers, and work diligently to ensure everyone has access to high-quality healthcare, delivered in a timely fashion.