Plastic, Reconstructive, and Aesthetic Surgery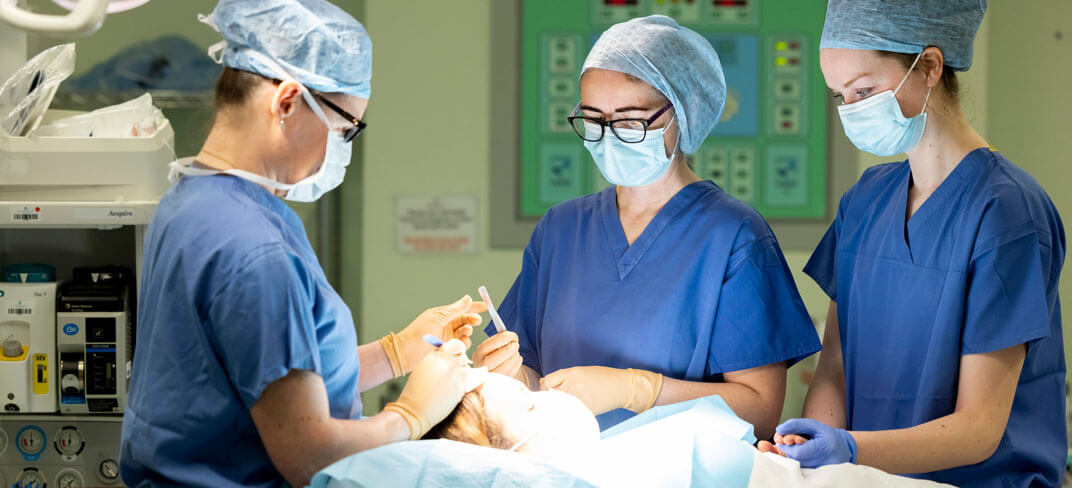 Our consultants use the latest surgical techniques to provide a range of plastic, reconstructive, and aesthetic (cosmetic) surgery services.
Make a Plastic, Reconstructive, or Aesthetic Surgery Appointment
We offer plastic, reconstructive, and aesthetic surgery services at UPMC Aut Even Hospital in Kilkenny and UPMC Kildare Hospital in Kildare.
If your condition is medical in nature, ask your GP for a referral letter. You can make an appointment for cosmetic surgery directly.
Conditions We Treat with Plastic, Reconstructive, and Aesthetic Surgery
Our consultants perform a variety of plastic and reconstructive surgeries and services. We help correct body changes that occur due to medical conditions or injuries. We also correct conditions that patients have been born with.
Our consultants treat diagnoses related to the:
Hands and wrists
We remove hand tumours and provide carpal tunnel release. We also offer Dupuytren's fasciectomy to repair this condition that limits hand movement.
Nose
We perform nasal surgery to treat nasal polyps (growths) and obstructions. Our consultants also treat issues involving the sinuses.
Skin
We remove skin lesions and birth marks. We also remove precancerous and cancerous moles and spots.
Tendons
We relieve tenosynovitis. In this condition, inflamed tissue surrounding a tendon causes pain and makes movement difficult.
Specialised Plastic, Reconstructive, and Aesthetic Surgery Services at UPMC
UPMC consultants provide expert plastic and reconstructive surgery services for many conditions. We offer specialised surgery to improve appearance, including:
Blepharoplasty (eyelid lift surgery).
Mammaplasty (breast augmentation surgery).
Otoplasty (ear reshaping surgery).
Rhinoplasty (nose reshaping surgery).
Cosmetic surgery can change your appearance. It can also prevent or repair damage due to certain conditions.
For example, our consultants perform surgery to reduce the weight and size of large breasts. Breast reduction can help prevent or reduce back problems.
We also provide non-invasive treatments to improve appearance. These include:
Botulinum toxin (Botox) to weaken facial muscles and reduce the appearance of wrinkles. This temporary treatment also relaxes muscle spasms.
What Sets UPMC Apart?
Our plastic and reconstructive surgery programme offer quick appointments with minimal waiting lists. If you need further testing, we provide referrals to other UPMC experts for rapid results.
The consultants in our plastic and reconstructive surgery programme offer "see and treat" appointments. When you come in for your clinical consultation, you may be able to have your surgery on the same day. We provide this convenient, efficient, one-day service for minor procedures.
Why Choose UPMC for Plastic and Reconstructive Surgery?
Our consultants are experts in plastic, cosmetic, and reconstructive surgery.
We are long term partners of the HSE (Health Service Executive) and private insurers. We help provide equal access to timely and high-quality healthcare.
Our Consultants