Urology Services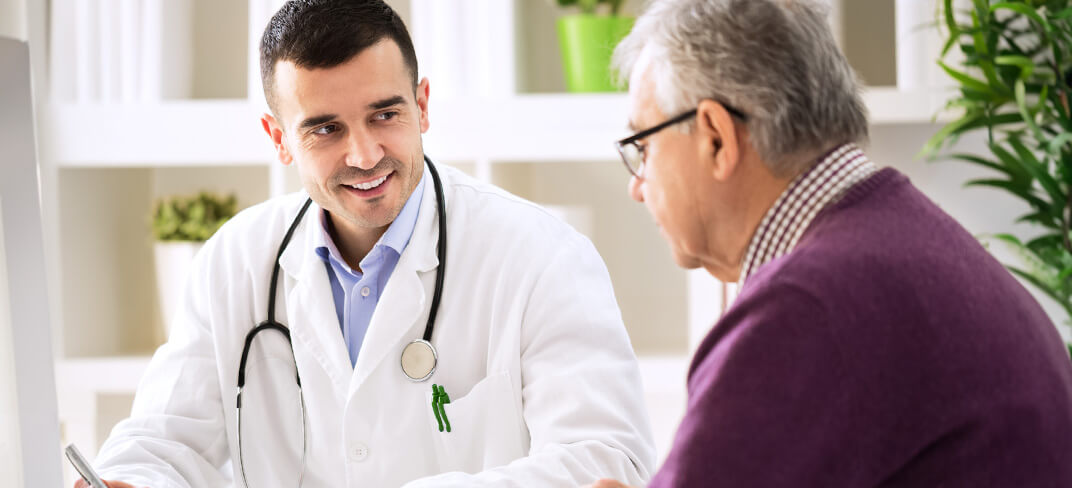 Urology is the medical specialty involving the male and female urinary tract. For example, if you have an issue with your kidneys or bladder, you might see a urologist. Urologists also treat the male reproductive system, including the testes, prostate, penis, and scrotum.
At UPMC in Ireland, our urology specialists use innovative treatments and minimally invasive techniques to provide you with a range of urological services.
How to Make a Urology Appointment
Ask your GP for a referral and contact a urology expert at a UPMC location near you. Locations include UPMC Whitfield Hospital, UPMC Kildare Hospital, UPMC Aut Even Hospital, and the UPMC Outreach Center, Carlow.
Providing you excellent medical and nursing care is at the heart of everything we do at UPMC.
Travelling to UPMC for care
UPMC offers access to expert care within a short drive from home. We have locations in Kilkenny, Kildare, and Waterford and an outreach centre in Carlow.
Learn more about travelling to UPMC for care.
Many of our locations are accessible from the M9. UPMC Kildare is reachable from Dublin in under an hour and is just off the N7.
Urologic Conditions we Treat
Our urologists diagnose and treat a wide range of conditions in adults and children. Some of the diseases and conditions that we treat at UPMC include:
Benign prostatic hyperplasia (enlarged prostate)
Bladder cancer
Chronic pelvic pain syndrome
Erectile dysfunction
Haematuria (blood in the urine)
Hypospadias (birth defect where the opening of penis isn't at the tip of the organ)
Kidney cancer
Kidney stones
Male infertility
Pelvic floor dysfunction (inability to control muscles of the pelvic floor)
Penile cancer
Peyronie's disease
Prostate cancer (cancer of the prostate gland)
Renal carcinoma (cancer in small tubes of kidney)
Testicular cancer
Undescended testicle (when one or both testicles don't move down to the scrotum)
Ureteropelvic junction obstruction (blockage where ureter attaches to kidney)
Urinary incontinence (leaking urine)
Urinary tract infection
Urinary tract stones
Vesicoureteral reflux ( a condition where the flow of urine goes the wrong way)
Specialised Urology Treatments at UPMC
We can help people who need specialised treatment for conditions of the urinary system. Some of our treatments include:
Bladder exstrophy: treatment for a birth defect where bladder forms outside the foetuss
Brachytherapy: cancer treatment where doctors place radioactive materials inside the body)
Circumcision: surgical removal of foreskin
Cystoscopy: test to examine lining of bladder and urethra
Genital oncology: cancer treatment for genitals
Hydrocoele repair: surgery to correct swelling of scrotum
Lithotripsy
Neuro-urology
Orchidectomy: removal of one or both testicles
Penile implants: treatment for erectile dysfunction
Prostate biopsy: samples of prostate tissue to examine for cancer
Prostatectomy: removal of some or all of prostate
Prostatitis: inflammation of the prostate treatments
Sparc Sling: sling surgeries for stress incontinence
TRUS biopsy: needle biopsy to look for cancer in prostate)
TURP and Green Light Laser TURP: surgical methods of removing tissue from prostate
Trans-urethral injections: procedure to help control urinary incontinence
Ureteroscopy: procedure to examine upper urinary tract
Varicocele repair: surgery to remove enlarged veins in scrotum
Vasectomy
Vasectomy reversal
Urology procedures that set us apart
Extracorporeal shockwave lithotripsy. If you have renal colic (pain when stones block part of your urinary tract), we can help. The urologists at UPMC Aut Even perform extracorporeal shockwave lithotripsy (ESL). This non-invasive procedure dissolves obstructive bladder and ureteric stones using sonic waves.
Why Choose UPMC for Urology Services?
Our consultants are highly regarded experts in the field of urology. Our urology specialists in Ireland have advanced training in urology and provide care centered around your specific needs.
Additionally, we are long term partners of the HSE (Health Service Executive) and private insurers and work diligently to ensure everyone has equal access to high-quality healthcare, delivered in a timely fashion.
Our Consultants