Ophthalmology Services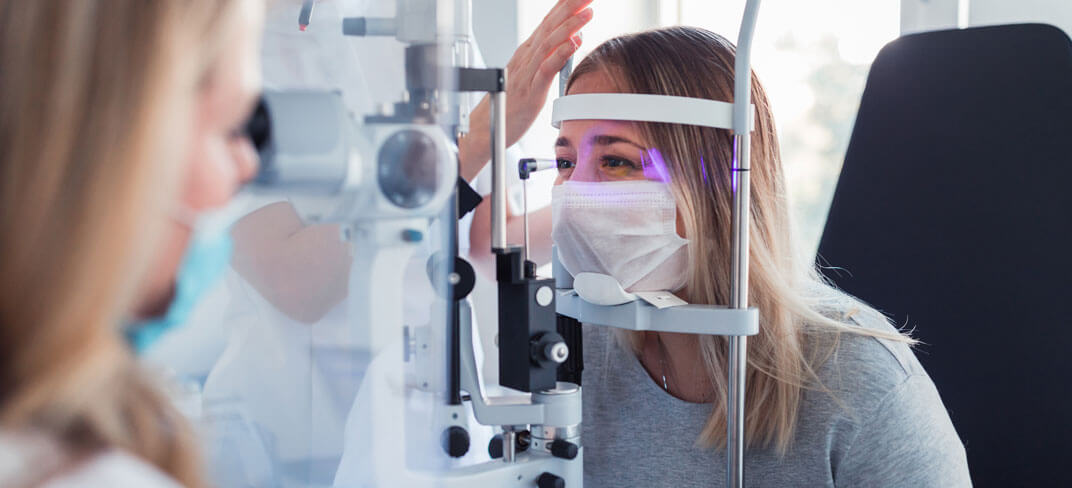 At UPMC in Ireland, our ophthalmology experts use innovative treatments and minimally-invasive techniques to provide a range of care options.
Eye and Vision Conditions We Treat
At UPMC, our ophthalmologists diagnose and treat all types of eye problems in adults.
Some of the conditions and diseases we treat include:
Age-related macular degeneration: eye disease that blurs vision and impacts driving or reading.
Cataracts.
Children's vision problems.
Diabetic eye disease caused by high blood sugar.
External eye diseases that affect the surface of the eye.
Glaucoma.
Macular holes: a small break in the macula, found in the retina.
Ocular surface disorders: issues that occur on the cornea, or front surface of the eye.
Retinal tears and detached retinas.
Retinal vein diseases: changes in blood vessels of the eye that cause vision loss.
Uveitis: inflammation in the eye.
Ophthalmology Treatments at UPMC in Ireland
We offer comprehensive, advanced treatments for eye and vision problems using the latest technology and techniques.
They include:
Macular degeneration injections.
Cataract surgery.
Eyelid surgery to fix sagging eyelids.
Glaucoma screening and treatment.
Neuro-ophthalmology to treat vision problems related to the nervous system.
Cosmetic and reconstructive eye surgery.
Refractive lens surgery to replace the eye's natural lens with an artificial lens.
Retinal diode laser for diseases of the retina.
Selective laser trabeculectomy surgery to treat glaucoma.
Treatments for corneal problems.
Vitreoretinal surgeries on the eye's vitreous gel to fix retina problems and enhance vision.
YAG laser to improve vision after cataract surgery.
Eye and vision care that sets us apart
Besides basic ophthalmic care, our specialty programmes at UPMC include:
Hi-tech laser surgery. UPMC Kildare Hospital and the IOES is the first in Ireland to use the Ziemer Z8 for laser eye surgery. The laser uses gas bubbles instead of a blade. The procedure is often more comfortable for patients and may reduce recovery times.
Children's eye care. Consultants at UPMC Kildare Hospital are experts in treating eye problems in children.
Eye casualty service. UPMC through its partnership with the IOES provides care at UPMC Kildare Hospital and UPMC Whitfield Hospital.
Why Choose UPMC For Ophthalmology Services?
Our consultants are:
Highly-regarded experts in eye and vision health.
Part of a network of advanced learning and knowledge, backed by UPMC's global expertise at the UPMC Eye Center.
UPMC Kildare Hospital offers transport from local bus and train stations.
UPMC is a long term partner of the
HSE (Health Service Executive)
and private insurers. We work hard to make sure everyone has equal access to high-quality healthcare when they need it.
Make an Ophthalmology Appointment
To make an appointment, review our consultants and ask your GP to refer you. Then, contact an ophthalmic specialist at a UPMC location near you.
Our locations include:
Our team of experts provides outstanding care for a wide range of eye conditions and for people across the South East.
What to expect at your first ophthalmology appointment
Once we receive your referral from your GP or optometrist, your ophthalmology consultant will:
Examine your eye.
Take a full medical history.
Decide what course of treatment you need.
Travelling to UPMC for eye care
UPMC offers access to expert care within a short drive from home. We have locations in Kilkenny, Kildare, and Waterford and an outreach centre in Carlow.
Learn more about travelling to UPMC for care.
Many of our locations are accessible from the M9. UPMC Kildare is reachable from Dublin in under an hour and is just off the N7.
Our Consultants